Project LethalPC (NZXT Switch 810 with Intel 3770K)
Posted By: Lethalhammer 9/28/2012
It has been far too long since I have built myself a personal desktop PC with a bit of water cooling. Overall this build is my way back into the world of desktop greatness with a splash of liquid.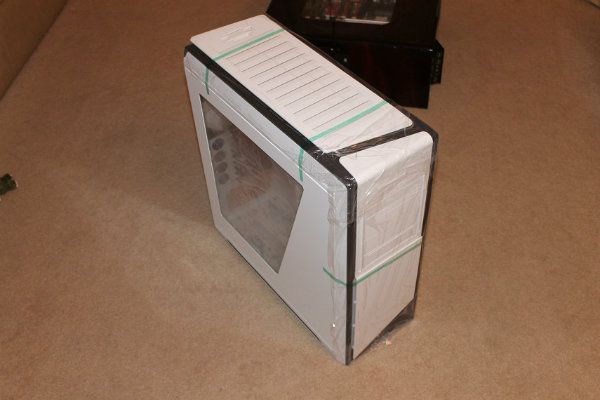 I jumped the gun on the 1156 socket to come to realize Intel pulled a fast one on us with going with a TIM on die instead of a soldered die. Why is this bad you ask? It doesn't allow that great of water cooling. While you can get chips that seem to run much cooler than others, it is a nice glaring issue you can't get around unless you remove the heat spreader and void your Intel warranty... One thing I am not looking to do any time soon.
I kicked off this rig with stock cooling as I swore to myself I wouldn't go full blown water cooling this time… Who was I kidding? I convinced myself I would be happy with a sealed water cooled unit with my own flare so I picked up the Corsair H70 kit and a couple high CFM fans with low DB's. While it worked… It didn't seem to work as well as it does on a soldered CPU die. So I asked my boss if I could spend the cash to build a proper system to cool my CPU and she said yes!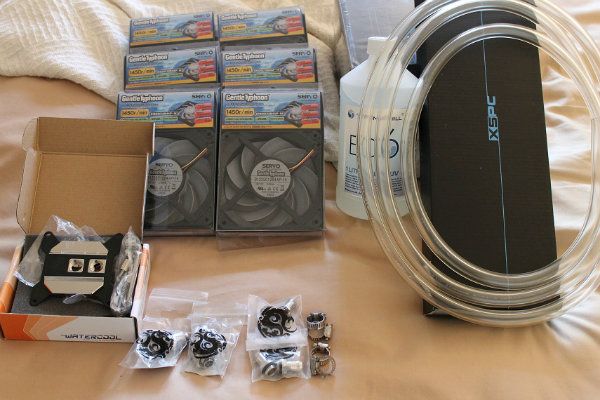 So here are some of the considerations I made while building this system. I know in the future EK is going to be making blocks for my GTX 680 FTW+ no reference boards. When that happens I will want to grab 2 of those blocks and add 2 more radiators to my loop and a much better pump. But for the time being I wanted to build my system with the pump contained within one unit. What better way to go than the X20 750? The pump runs really well with the components I have currently but I will be going to a D5 once I add the GPU's and other radiators to the loop. So for the time being I went with clear cheap tubing and a system that will allow me to get my CPU loop up and running quickly.
PC Parts:
CPU: Intel i7 3770K
Motherboard: EVGA Z77 FTW+
GPU's: EVGA GTX 680 FTW+ 4GB w/Backplates
Memory: G.Skill Sniper 2x4GB DDR3 2133
Hard Drives: 2x Munchkin 256GB SSD + Seagate Hybrid 750GB + Seagate 1TB
Case: NZXT Switch 810 white
PSU: CoolerMaster 1000W
Cables: Hand Crafted Black & White (Should have measured and gotten the proper connections for my modular PSU L)
Water Cooling Parts:
CPU Block: HeatKiller Rev 3.0 ni-BL Socket 1156/1155
Pump /Rez: X20 750 Dual Bay
Rad: XSPC EX360 Triple Radiator
Liquid: Thermochill EC6 Clear
Fans: Scythe Gentle Typhoon's (Push Pull Configuration)
Tubing: Tygon 3/8ID x 5/8 OD
Fittings: Bitspowers Barbs and Compression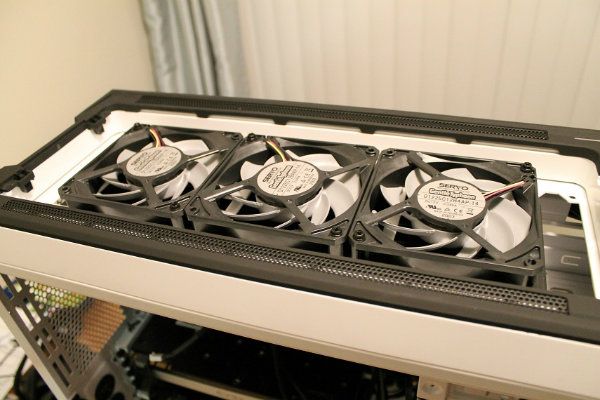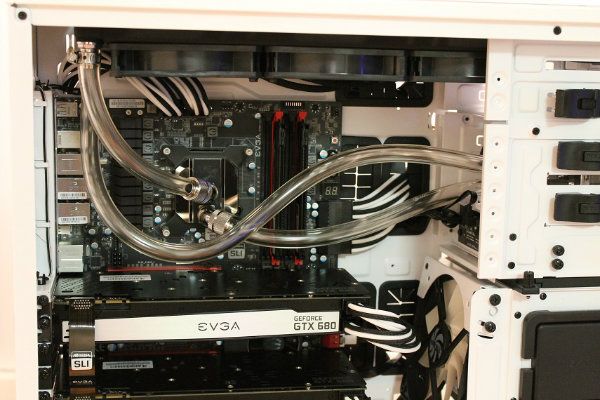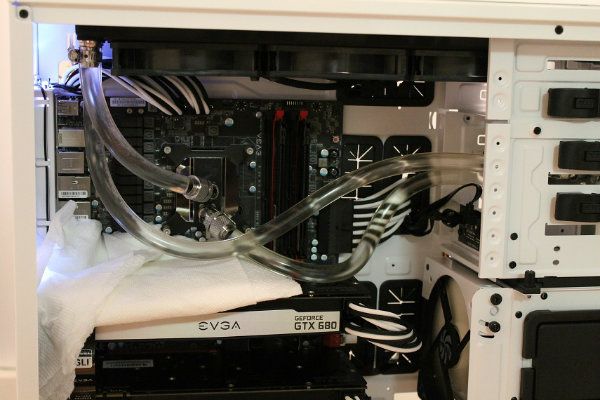 Stay tuned for a full video show casing how I built out this system withint he case along with reviews and benchmarks on how each product within in the case is holding up.
LethalPC.com is Back - NZXT Switch 810 Case Preview
Posted By: Lethalhammer 9/16/2012
It has been just over a year since LethalPC.com jumped into PC desktop content, and it is time for that to change. Today we would like to announce we are back to review new products, build new PC's and overclock the hell out of everything we get our hands on. Okay maybe not everything, but enough items to wet your palate.
Today we want to kick things off with a quick overview of the NZXT Switch 810 case in the beautiful white and full of just about every feature possible case.
I did my research and I'll be honest and say the Cooler Master HafX almost won me over, but once I saw all the little details on the Switch 810 case I was easily swayed away from the now seemingly generic offerings within the Haf X or what I call the massive Transformer of cases (not a good thing).
First off I will cover the features of the NZXT Switch 810 case.
Massive CPU cutout allowing access to upgrade and swap out CPU coolers without having to remove the motherboard.
Intake filters covering just about every fan position
Optional built in fast access hard drive bay for both 3.25" and 2.5" drives
Easy access for hard drive replacement
Multiple rear watercooling cutouts for multiple watercooling options
Two adjustable fan slots to allow options for better graphic card cooling
Rear lighting for clear and easy access of the I/O panel with the option to turn them on and off
7/10 easy access cutout holes for easy cable management (3 cutouts are simply in bad places)
Multiple GPU options from Tri-Quad SLI with room to spare
Included 8Pin motherboard power cable extension
Thumbscrew mounts at every commonly accessed area
Built-in 7 port 3pin fan hub (not controller)
Optional 10 Fan mounting locations giving you flexibility with cooling options.
Watch the below video for NZXT Switch 810 Review Part 1 as we have started to wire up the case and prep it for our new build.
Nvidia Launches the GTX590 Dual GPU Beast!
Posted By: Lethalhammer 3/24/2011
Nvidia has launched its new flagship GTX590. This Dual GPU card is basically 2 lower clocked GTX580 GPU cores on one PCB. The card is in line with ATI's 6990 but it really shines when it comes to noise and power requirements. Check out the Official Nvidia launch video with Tom Peterson & the few in depth reviews I have gathered.
Nvidia's Launch Blog: Link
Guru3D Review: Link
Overclockers Club Review: Link
TechPowerUp Review: Link
Tomshardware Review: Link
Nvidia: Driver 266.58 Is Now Available!
Posted By: Lethalhammer 2/7/2011
This is the first release from the Release 265 family of drivers (versions 265.xx to 269.xx). You can read more about this family of drivers on GeForce.com
New in Release 266.58
GPU Support
Performance
Increases performance for GeForce 400 Series and 500 Series GPUs in several PC games vs. the latest Release 260 drivers. The following are examples of some of the most significant improvements measured on Windows 7. Results will vary depending on your GPU and system configuration:
???
GeForce GTX 580:
Up to 7% in Battlefield Bad Company 2 (1920x1200 4xAA/16xAF)
Up to 12% in Battleforge (SLI 1920x1200 4xAA/16xAF Very High)
Up to 11% in Call of Duty: Modern Warfare 2 (SLI 1920x1200 4xAA/16xAF)
Up to 7% in Dirt 2 (SLI 1920x1200 4xAA/16xAF)
Up to 7% in Far Cry 2 (1920x1200 4xAA/16xAF)
Up to 5% in Just Cause 2 (1920x1200 4xAA/16xAF Dark Tower)
Up to 5% in S.T.A.L.K.E.R.: Call of Pripyat (SLI – 1920x1200 4xAA/16xAF)
Up to 9% in Stone Giant (SLI 1920x1200, DOF on)
Up to 8% in Unigine Heaven v2.1 (SLI 1920x1200 4xAA/16xAF)
Improves performance in Final Fantasy XI on GeForce 400 Series and 500 Series GPUs.
Visual Quality
Adds ambient occlusion support for one of the most popular games of the year: Starcraft II: Wings of Liberty. Ambient occlusion improves the quality of lighting, shadows, and depth perception in many parts of the game. Learn more on GeForce.com.
NVIDIA 3D Vision
With Release 260 and 265 drivers, the installation process for 3D Vision has changed. Please view this knowledgebase article for more information on the changes.
Adds support for 3DVisionLive.com Beta 2:

Adds supports for 3D photo sharing and viewing
Adds new 3D video clips to the website

Improved scaling quality with video streaming content from 3DVisionLive.com over previous 266.35 Beta driver
Get the full Drivers HERE !!
Water Cooling 101: Components, Flow, Priming & More
Posted By: Lethalhammer 1/20/2011
Water cooling can get very overwhelming if you don't know what to buy or where to start. In all Water Cooling is simple, don't let all the crazy looking systems throw you off. Simply pick up these basic items Pump, Reservoir, Radiator, CPU block, Tubing, Liquid & a few fans and you will be good to go.
In this video I show you basic components, a good flow path & even a intro on how you can prime your pump and fill up your loop. If you have questions please leave them in the comment section of the video.
Nvidia vs. AMD 28nm War This Year
Posted By: Lethalhammer 1/20/2011
Both Nvidia & AMD are working feverishly to tape out new 28nm graphic chips. Why a new chip so fast? Well it really isn't that fast as we have been getting accustom to 6 month and 1 year turnaround time lines for new product launches. Either way both AMD and Nvidia will be working with TSMC to polish out these 28nm chips. No matter which chip ends up faster we all know "We" the consumers will benefit from the 40nm move to 28nm. Can we say Radeon 7990 & GTX 680 anyone?
Source: Nvidia 28nm Geforce aims for Q4 2011
Water Cooling 101: Fittings
Posted By: Lethalhammer 1/20/2011
From barb fittings to compression fittings, your choices here can be important ones. In this video I show you a handful of different fittings that can be used in your system and why some are better than others.
Review: Steelseries XAI Pro Gaming Laser Mouse
Posted By: Lethalhammer 1/15/2011
Back to back Steelseries reviews! Well there is a reason, local retailer had the mouse and keyboard bundled on sale for the long weekend so I figured it would be a good chance to check out what the Steelseries can offer.
So we have the XAI Pro Gaming mouse. The mouse itself is a fairly nice mouse. The build quality is very good. The bottom side LCD is bright and offers profiles to save all your preferred settings. While I firmly believe this is a quality mouse you will see in my review I am passing on the chance to use this mouse in my everyday gaming. The main reason for this is it feels uncomfortable in my huge hands. I do believe this mouse is made for a gamer, but just not me. Maybe guys and gals with smaller hands can benefit from this mouse.
Did he mention a GIVEAWAY? Why Yes... Yes he did!
Review: Steelseries G6 V/2 Keyboard
Posted By: Lethalhammer 1/15/2011
When looking for a keyboard you have so many options. From 5 million buttons and keys to the slim and basic layouts. I have owned a lot of keyboards in my time, some I stuck with longer than others. But the one thing I have always found myself doing is dropping back to the basics. The Steelseries G6 v2 keyboards are thin, heavy and well constructed and are... basic. While it has everything a person might be looking for in a keyboard it does lack some features I enjoy. Mainly being the kick outs on the bottom to allow me to elevate the keyboard a bit higher. But that isn't enough to cast this awesome keyboard aside. Anyone looking for a new keyboard should take the time and check out what Steelseries is up to.
NVIDIA Ships One-Billionth Graphics Processor
Posted By: Lethalhammer 1/15/2011
"NVIDIA and TSMC today celebrated the shipment of the one-billionth GeForce graphics processor designed by NVIDIA and manufactured by TSMC"
One-Billionth Processor is a fairly huge deal especially since they are talking about the GeForce series. Nvidia is given the crown for basically inventing the GPU, while their past 12 years hasn't been a smooth ride they have found themselves ontop of the market once again with their current generation GeForce 5xx series. This announcement is also testament on just how much we want more Graphic Processors, I know I will be attempting to get Nvidia's Next generation GPU's if they can still keep the lead ahead of AMD.
Source: TSMC
Discussion: Swiftech MCP 350 & EK-DDC X-Top V2
Posted By: Lethalhammer 1/15/2011
When starting off water cooling its always good to start with a good pump. If you know your going to have a few components to push flow through, than its a good idea to see how you can get more bang for you buck out of that pump.Swiftech's MCP 350 & 355 are probably one of the most common pumps your going to find. If you take good care of them and don't push them over their limits they will last a long time.
Swiftech MCP 350 Specs:
Small Footprint: 2.4" x 2.4" x 1.5"
50,000 hours MTBF (Mean Time Between Failure) equivalent to 5 years lifetime.
Superior 12 Volts DC convenience: plugs into the computer power supply
The MCP350™ can be used with full confidence in any MP servers, and high-end workstations.
Superior real world performance thanks to its high pressure characteristics (13ft of head). The MCP350™ is particularly well adapted to the proliferation of daisy-chained liquid cooling devices in a single circuit: Multiple Processors, Chipset, Graphics, and Hard Drives.
Quiet Operation thanks to brushless motor: 24 to 26 dBA
3/8" barb fittings.
No maintenance when used with de-mineralized water, and anti-fungal additives (Our HydrX™ additive is recommended)
Quick installation with adhesive neoprene pad, or permanent installation with screws and grommets.
RPM sensor plugs to 3 pin motherboard fan connectors and reports impeller rotational speed
If you want to give your pump more flow and new options for connections than you should take a look at the EK DDC X-Top V2. Using the X-Top V2 is kind of like overclocking your pump in a way, in all giving you a higher flow rate and more head pressure.
Review: Danger Den Radiator Reservoir - DD-RAD-Reservoir
Posted By: Lethalhammer 1/14/2011
Danger Den is a fairly well known company for thier quality products. Most ethusists know Danger Den for their quality water blocks, radiators & cases. But recently Danger Den has introduced the DD-RAD Reservoir which is a reservoir that mounts to eith your 120mm radiator or to a 120mm fan mount.
Specs:
Approximately 7.5 inches tall and 2.0 inch outer diameter
Mounting flanges are approximately 2.6 inches in diameter
1/4" Thick Acrylic Wall
Mounting brackets can adjust to any length along the acrylic tube
(1) Plug and (2) fittings for each reservoir
Includes 4mm screws and 6-32 screws to mount to most radiators.
Volume approximately 7.34 ounces or 217 ml
Hardware Labs Radiators & Max Wattage
Posted By: Lethalhammer 1/13/2011
I know finding information on Radiators can be pretty hard in regards to how much wattage they can efficiently cool. So I have taken the time to provide you with some basic but yet effective information that I hope is a bit easier to find.
GTS 120 - 300W - SO/DC/QC/GPU/
GTS 120 XFlow - 300W - SO/DC/QC/GPU/
GTS 240 - 700W - SO/DC/QC/GPU/SLI/CF
GTS 240 XFlow - 700W - SO/DC/QC/GPU/SLI/CF
GTS 360 - 1100W - SO/DC/QC/GPU/SLI/CF
GTS 360 XFlow - 1100W - SO/DC/QC/GPU/SLI/CF

GTX 120 - 420W - SO/DC/QC/GPU/SLI/CF
GTX 240 - 900W - SO/DC/QC/GPU/SLI/CF
GTX 360 - 1400W - SO/DC/QC/GPU/SLI/CF
GTX 480 - 1800W - SO/DC/QC/GPU/SLI/CF

GTXM 80 - 180W - SO/DC/QC/GPU/
GTXM 160 - 360W - SO/DC/QC/GPU/SLI/CF
GTXM 92 - 200W - SO/DC/QC/GPU/
GTXM 184 - 400W - SO/DC/QC/GPU/SLI/CF

SO = Stealth Ops
DC = Dual Core
QC = Quad Core
GPU = Graphic Cards
SLI = Scale-able Link Interface (Nvidia Multi Cards)
CF = CrossFire (ATI Dual Cards)
Guide: Install Koolance VID-NX580 Water Block
Posted By: Lethalhammer 11/24/2010
We have secured a Koolance VID-NX580 water blocks for Nvidia's GTX 580 and will be installing them on our EVGA GTX 580 Superclocked graphic cards.
These new blocks from Koolance are a heavy duty Copper that si Nickel plated with Acetal top. The block is not only designed to fit the GTX 580, but is also compatible with the GTX 570 as the cards share the same vanilla design.
Next >